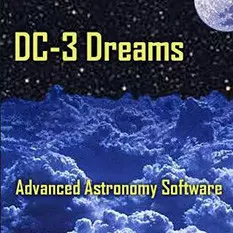 DC-3 Dreams makes astronomy automation software that differs from others in two important ways:
(1) It includes a self-contained web service with mobile features, allowing individuals, teams, students to acquire images remotely without access to the desktop at the observatory from their tablet, mobile phone, or desktop computer. By filling in very simple forms, the data is acquired and may be delivered via DropBox, iCloud, etc.
(2) The optional ACP Expert scheduler provides all observatory operations including startup/shutdown, target selection, data acquisition, and calibration frames, totally 24/7 hands off. ACP Expert's artificial intelligence scheduling adapts to periods of unsafe weather, requests made during the night, and receives VOEvent triggers for transient events from sources such as ASASSN, SWIFT, and Gaia, automatically scheduling followup observations.
For more information see https://dc3.com or call us at +1 480 396 9700.

Lunático Astronomía is a small technology company located north of Madrid, Spain. We design and manufacture products for observatory/telescope control and for sky monitoring. Since 2006, we have been trying to improve the accessibility and safety of observatories, especially remote ones. All our products are manufactured to last, can be repaired, and are constantly being updated. Available and installed throughout the world, from the most extreme north of Europe, to New Zealand, Chile and Japan.
More information available at: https://lunatico.es/the-company.html

Julien Tschäppät, Elendil software: computer engineer, astronomy and astrophotography enthusiast, I have been doing astronomical development for several years (software, ASCOM drivers, component libraries …). These developments have generally originated from a need for personal use, but also following requests for specific developments, as for Deep Sky Chile.
Contact and information at https://www.elendil.software
Alcor-System develops scientific products for amateur and professional astronomy:
Equipment: Cameras capable of monitoring the entire sky during the night (ALL-SKY), systems dedicated to measuring the optical performance of telescopes (Shack Hartmann), direct drive telescope mount for sky imaging or tracking artificial satellites (Serie Nova 120/200), and products that can measure the level of turbulence of the atmosphere, fixed or mobile. Alcor-System carries out the study and the complete design of subsets necessary for the proper functioning of these products.
Software: The design of software (related to products or independent) is also at the heart of our business. In particular, we develop the PRISM software.
Services: Alcor-System also participates in construction and equipment projects for astronomical observatories, as consultant or project manager.
For more product information, visit our website: www.alcor-system.com
Like what we offer?
Have you found what you're looking for, or do you have some questions for us?
Contact Us